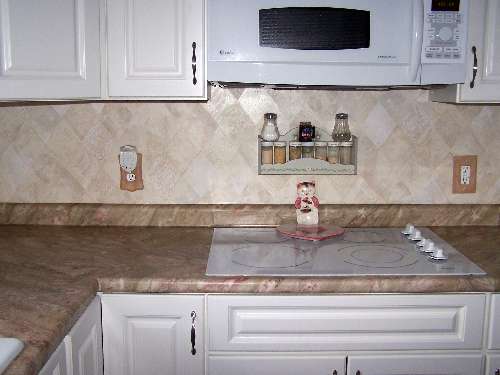 PaperIllusion is not just for walls…it is a wallpaper that keeps on giving.
For years I've heard you can cover your counter tops with paper illusions wallpaper, but personally I had not done it so I couldn't speak from experience.
Well, our subscribers have, and I'd love to share what they've done with you…
Melanie Smith wrote:
I bought the Granite color and I gave myself new kitchen countertops in one day for less than $50.00. I applied all 4 coats of the clear polyurethane that it suggested and it is holding up beautifully. I did it one day while my husband was at work, with no warning, and when he came home he was shocked. He asked where did we get the money for you to get marble countertops? I just grinned and told him I did it all by myself in just one day and it only cost about $48.00. He was amazed that it looked so real, he has told everyone he knows, even his mom (kudos for me) and all the guys at work are now telling their wives what I did and how easy it was to do and how authentic it looks.
Barbara Fant wrote me saying:
When I first found your Wall Paper Illusions I thought what a great idea, so I ordered two different mini rolls to see which one would look best in our small guest bathroom.

I'll be honest with you, I was skeptical about starting the project. Even as boring as the current cultured marble counter top looked, I wasn't ready to ruin it.

Looking at the roll of paper doesn't give you an idea of how the actual torn and pasted final results will be. I ended up using Florentine Illusion in Marble Stone. …I am so very pleased with the look that I wanted to share before and after photos with you. ("After" pictured here) I can't believe it's….wallpaper!
To see more examples of this project, visit the Paper It Fun! Photo Gallery.
A Resurfacing Counter Tops project sheet is also available based on one of these experiences.
Enjoy!

Technorati Tags: counter tops, countertops, paperillusions, paperillusion, paper illusions, paper illusion
The Paper Illusions Place
See Photos and Save on All 31 Colors…Samples, Boxes, Mini-Rolls and More
Enjoy this post? Click here to treat Carrie to a coffee and say "Thanks!"