The original PaperIllusion design by Village included seven different faux finish effects: Script, Hearthstone, Travertine Marble, Roman, Crepe and Olympus Stone).
There were multiple colorways of these effects yielding a total of 31 patterns. These were all made available as 20.5 inch wide Master Sheets in 48.5 foot long rolls, for a total of 85 square feet.
In the winter of 2009, a new Paper Illusions design was introduced under the name Imperial, carrying forward several of the same illusions in a few colors and a brand new illusion, Birdseye Marble, in ten colors, for a total of 24 patterns. These were all made available in 20.5 inch wide rolls, but depending on the retail outlet, they were available in either 85 square foot rolls or 56 square foot rolls.
While the original Village design has long since been discontinued, there still remains stock available on a few patterns at Wallpaper Illusions: Script Harvest Gold, Script Cobalt Blue, Hearthstone Camoflage, Hearthstone Bubble Gum, Hearthstone Ocean, and Hearthstone Aquamarine.
Nearly half of the patterns under the Imperial banner were discontinued this past year (2015-2016). While half of the remaining patterns are temporarily unavailable due to production issues, 56 square foot rolls of the others still appear to be available here and here.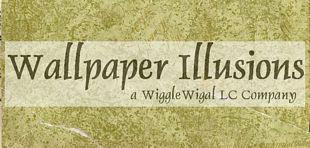 Images of every pattern of both Village and Imperial designs are on display at WallpaperIllusions.com, and Large (8″ x 10″) and Small (5″ x 5″) Samples are available for purchase on nearly every pattern.
Partial cut rolls, also known as Mini Rolls, containing 13 square feet, were made available for many years as a convenience product, but these have recently been discontinued due to low stock availability. In its place, Memo Samples, which are 20.5 inches wide by 41 inches long are being offered as stock permits.
Paper Illusion Wallpaper is a rare gem these days, so if you're trying to match something you currently own, or you're interested in purchasing something new, be sure to snatch it up while you can. Then, come back here, and share with us what you've done with it! 😉
Enjoy this post? Click here to treat Carrie to a coffee and say "Thanks!"